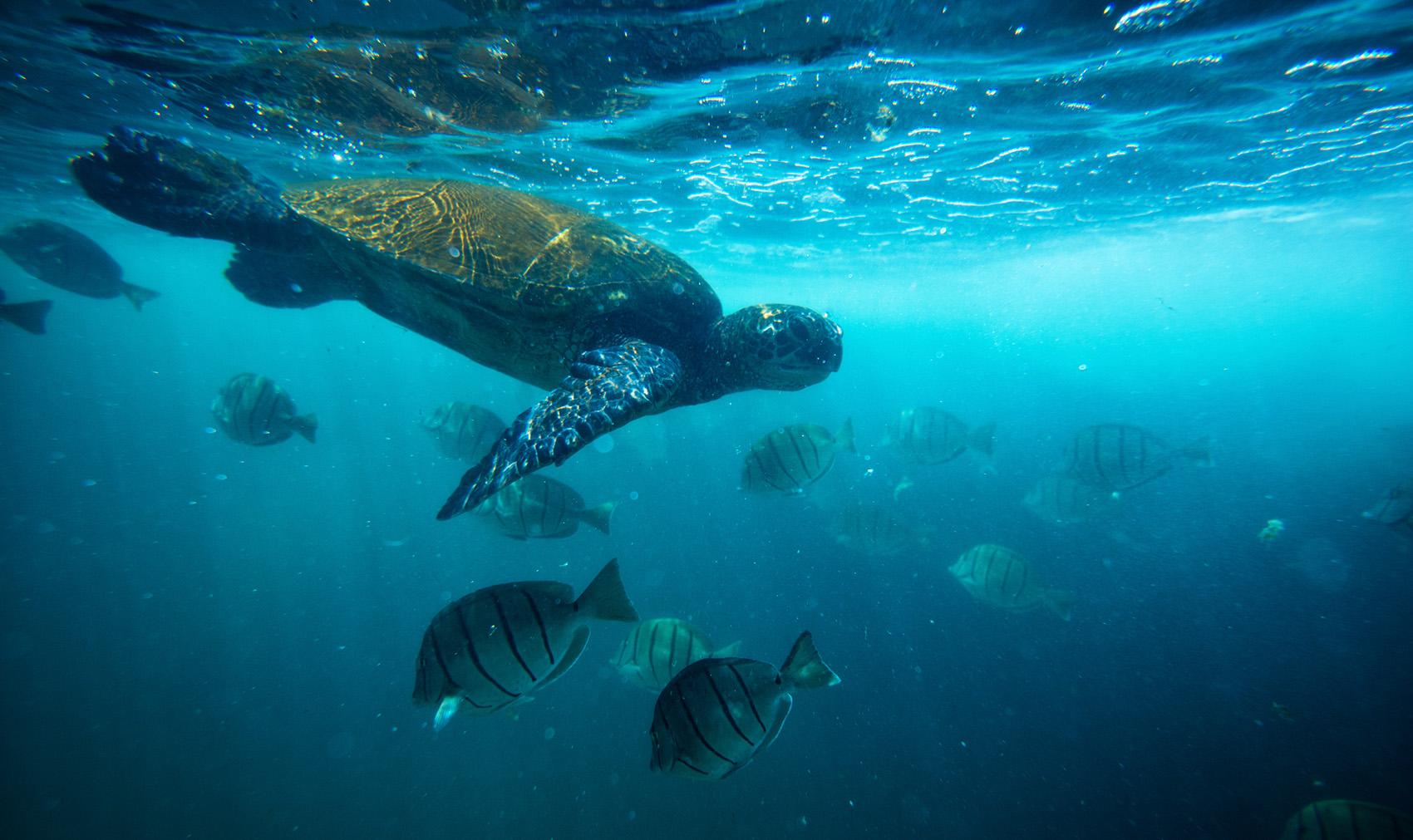 While people-watching on the Hawaiian Islands is certainly interesting, it can't compare to the excitement of spotting our colorful underwater residents. From yellow butterfly fish that dart among the rocks to benevolent green sea turtles, it's easy to see these fascinating locals while snorkeling, scuba diving, or at an aquarium. Here are a few of the species of local marine life you might see during your visit.

Hawaiian Green Sea Turtles (Honu)
These gentle creatures are among Hawaii's most beloved. If you're snorkeling, they'll coast on by as if they've known you all their lives. Because these are a protected species, it is important not to touch the
honu
. On Oahu, the turtles are frequently seen on several
North Shore
beaches. On the Island of Hawaii, you can often spot them swimming along the
Kona Coast
, or resting on the sands of
Punaluu Black Sand Beach
in
Kau
. Much like visitors to Lanai,
honu
like to sun themselves on
Polihua Beach
on the north side of the island.

Spinner Dolphins (Naia)
Naia (spinner dolphins) are common throughout Hawaii and pods of these acrobatic marine mammals can often be seen off
Hulopoe Bay
on Lanai, off the
Kona Coast
on the island of Hawaii, or on
Oahu
off the Waianae Coast or Maunalua Bay. Spinner dolphins are aptly named for their affinity to spin as they leap out of the water. Seeing these playful animals ride in the wake of your boat is an unforgettable—and not uncommon—experience.

Humpback Whales (Kohola)
If you're in Hawaii between late November and early May, keep your eye on the coastline for water spouts. Every winter, thousands of kohola migrate to the warm Pacific waters to breed and nurse their calves. One of the best vantage points for whale-watching on Oahu is from the scenic
Makapuu Lighthouse trail
. (Bring binoculars, a hat, sunscreen and lots of water.) On Maui, whale watching tours depart from
Lahaina Harbor
. On the Island of Hawaii, the
Kohala Coast
or
Hilo Bay
are good places to see whales from land. The
Historic Puukohola Heiau
literally means "hill of the whale" and is a popular whale watching spot today.

Fish
Hawaii's abundant waters are home to a variety of fish. In fact, roughly 20% of fish species in Hawaii are unique to the islands. From the bandit angelfish to Hawaii's state fish the humuhumunukunukuapuaa (which ironically isn't endemic), snorkelers and divers will be richly rewarded for their exploration. The clear, calm waters off the Kona Coast on the Island of Hawaii, Hulopoe Bay on Lanai and spots like Shark's Cove on the North Shore of Oahu are great locations to see fish in their native habitats.

Monk Seals
The Hawaiian monk seal is on the Federal endangered list and according to some sources, there are only about 1,100 left in the wild. If you think their faces are puppy-like you're in good company. Their Hawaiian name is ilio-holo-i-ka-uaua or "dog that runs in rough water." The Waikiki Aquarium on Oahu is home to a popular pair of monk seals.

Manta Rays (Hahalua)
The mysterious manta ray is one of the largest fishes in the ocean with wingspans of up to 20 feet or more but unlike stingrays or eagle rays, mantas do not have stingers. The Island of Hawaii's Kona Coast is the best place to spot friendly manta rays at night. You can see them attracted to the spotlights in the waters off of resorts like the Mauna Kea Beach Hotel and Sheraton Kona Resort & Spa at Keauhou Bay, just south of
Historic Kailua Village (Kailua-Kona)
. Or to get up close and personal, book a manta ray boat tour to snorkel or scuba with manta rays. This may be one of the most memorable adventures you experience on Hawaii Island.
Protecting Our Oceans and Sea Life
Protecting Our Oceans and Sea Life
How can you help preserve Hawaii's sea life? Keep a respectful distance from all the marine animals. Don't feed the animals; they have their own diets. Also, put trash in its place to keep the beaches clean and the animals safe.
Protecting Hawaii's Oceans and Reefs
How you can help protect Hawaii's fragile reefs: 1. Don't walk on the reef. 2. Don't dump fish & plants into the ocean. 3. Don't feed the fish. They have their own natural food. 4. Let fish come to you. 5. Never take or pick coral. 6. Put litter in its place. 7. Sterilize and thoroughly clean diving equipment between locations. 8. Don't drag kayaks or surfboards over the reef because it breaks the coral and destroys the ecosystem.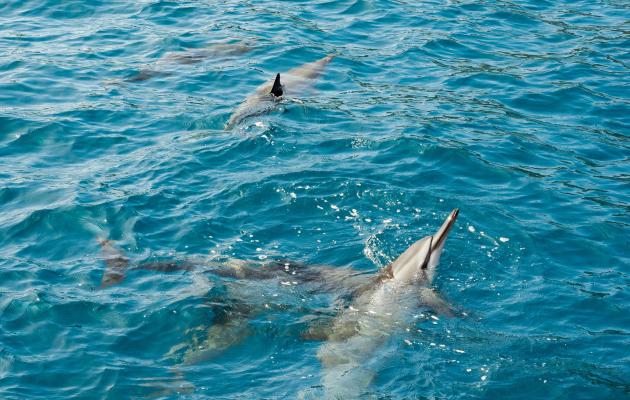 Dolphin SMART is a partnership program developed by NOAA's Office of National Marine Sanctuaries and National Marine Fisheries Service, the Whale and Dolphin Conservation, and the Dolphin Ecology Project. By choosing to follow Dolphin SMART criteria, businesses demonstrate their support for dolphin conservation. The next time you choose a dolphin tour, do your part and book Dolphin SMART businesses. Look for businesses with Dolphin SMART flags and decals displaying the current year.