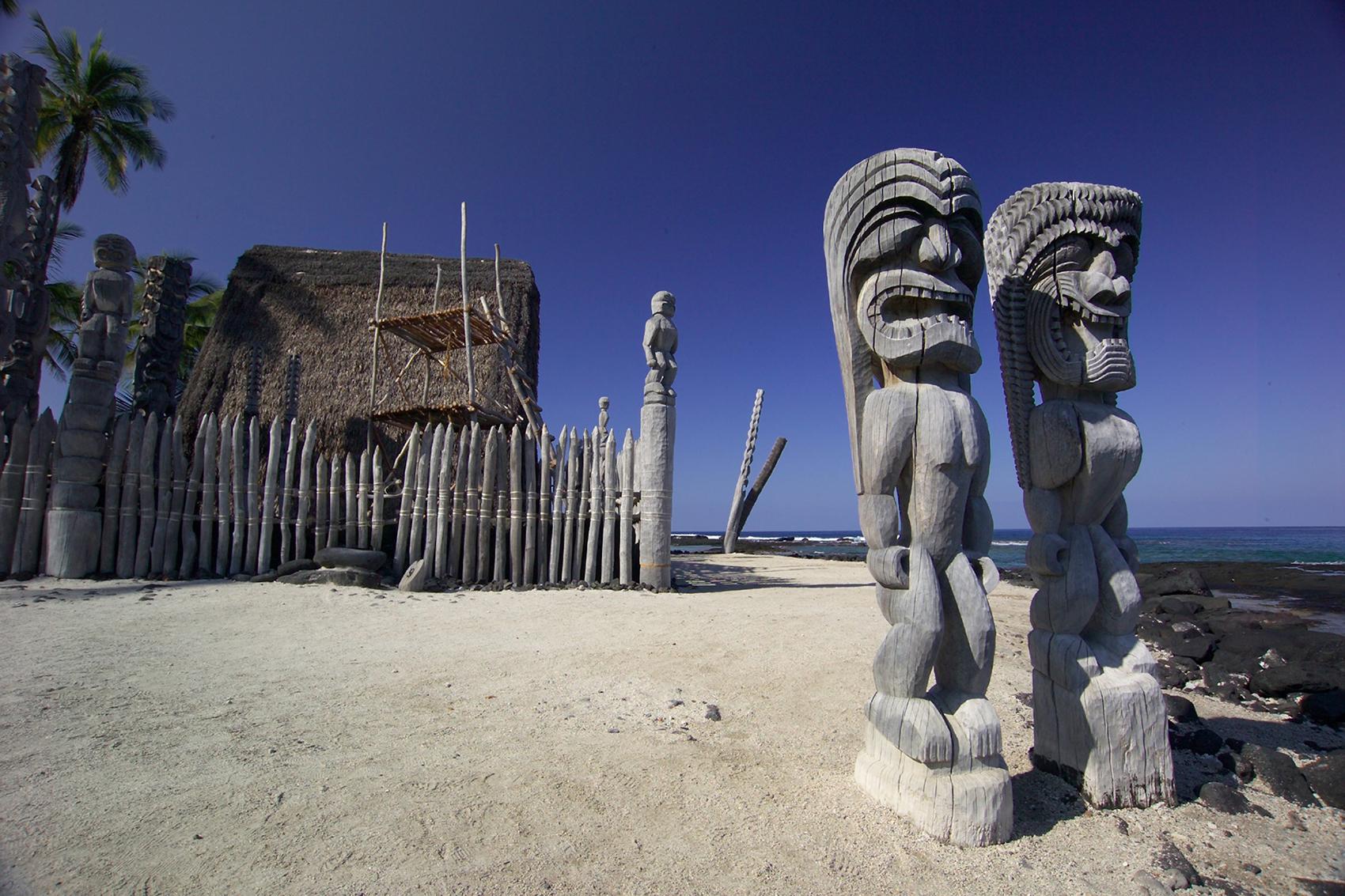 Puuhonua o Honaunau National Historical Park
A place of refuge and royal grounds south of Kealakekua Bay
Located at Honaunau Bay in South Kona, Puuhonua o Honaunau immerses you in Hawaiian culture. This 180-acre national historic park was once the home of royal grounds and a place of refuge for ancient Hawaiian lawbreakers.
Kapu, or sacred laws, were of utmost importance to Hawaiian culture and the breaking of kapu had its consequences, including death. If one were to break kapu, their only chance for survival was to evade his pursuers and make it to a puuhonua, or a sacred place of refuge. Once there, a ceremony of absolution would take place and the one who broke kapu would be able to return to society.
Hundreds of years old yet beautifully restored, Puuhonua o Honaunau remains one of Hawaii's most sacred historic places. Follow the park and map and take a self-guided walking tour and explore the grounds including the Great Wall, standing 12-feet high and 18-feet thick. Fierce kii, or wooden images of gods, guard the Hale o Keawe Heiau, a sacred temple that housed the bones of 23 alii (chiefs). A black lava rock shoreline hindered those who broke kapu from approaching by sea.

Beyond the puuhonua, explore the nearby Royal Grounds, which were the sacred home of alii. See Keoneele Cove, the royal canoe landing; the Keoua Stone, the favorite resting place of the high chief of Kona, Keoua; as well as halau (thatched work house), fishponds and a heiau (sacred temple) that is one of the oldest structures in the park. Beautiful at sunset, this sacred place gives visitors an important glimpse into early Hawaiian culture.

If you are interested in Honaunau Bay, adjacent to Puuhonua o Honaunau National Historical Park, please click here.