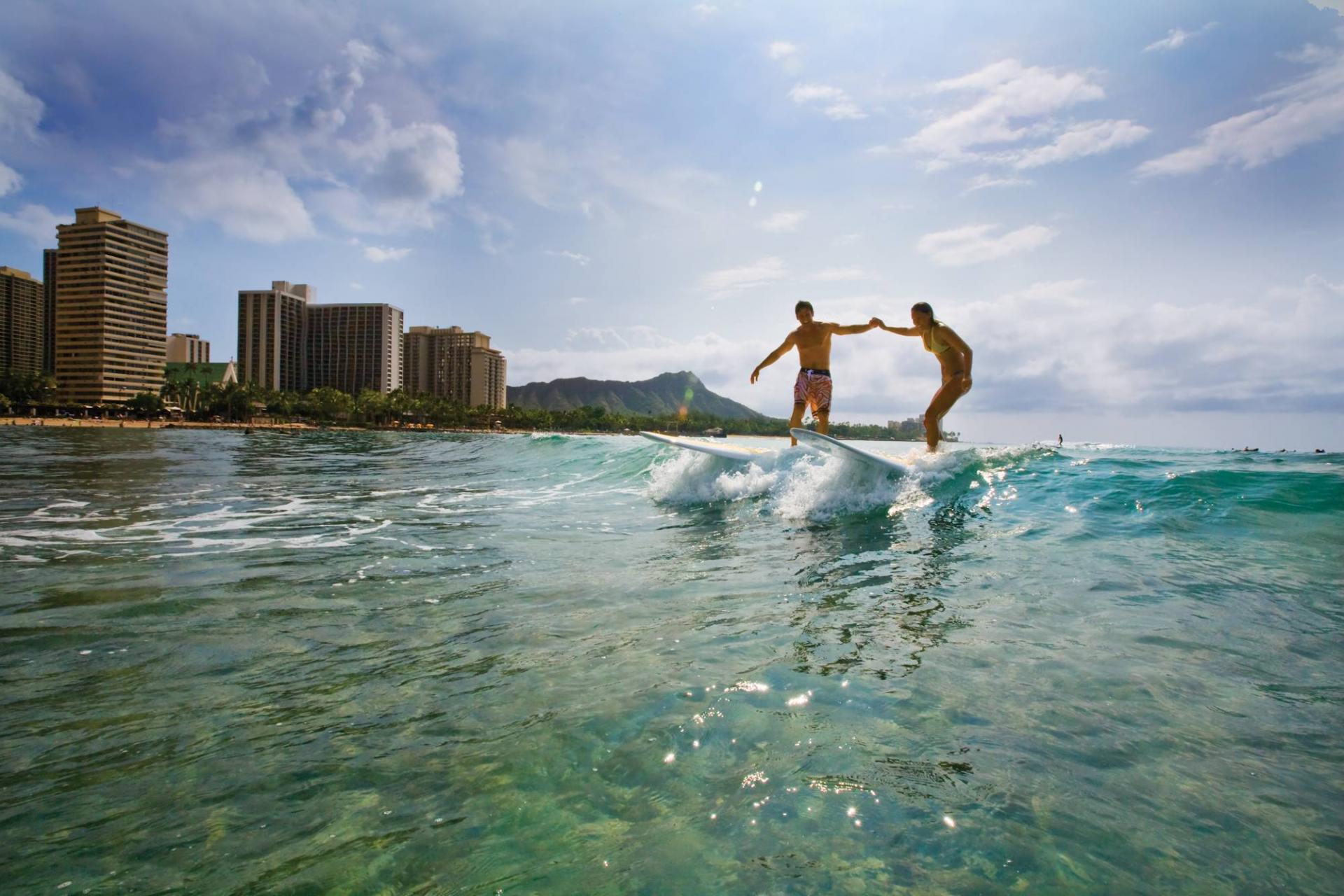 Surfing literally began as the "Sport of Kings" in Hawaii, when ancient Hawaiian royalty would show off their skills on
Waikiki Beach
and other surf spots around
Oahu
. In the early 20th century, legendary surfer, Olympic swimmer and Waikiki native
Duke Kahanamoku
introduced the sport to the world. He was one of the pioneers of the Waikiki Beach Boys, who earned their living teaching visitors how to surf and canoe at Waikiki Beach. In the 1950s, surfers started riding the huge waves in the North Shore's
Waimea Bay
, now widely regarded as the birthplace of big wave surfing. Oahu has many options for you to experience surfing, either by watching the pros on the major waves or by trying it out yourself on the gentler ones.

Learning How to Surf on Oahu
If you're ready to learn, the calm waters of
Waikiki Beach
are a great place to get your feet wet. You can still find real Waikiki Beach Boys showing visitors a great time and giving surfing lessons today. Sign up for a lesson at the seaside booths along Kuhio and Waikiki beaches. Some of these instructors have been teaching surfing and outrigger canoe paddling for generations.
You'll find surf schools taught at gentler breaks in town at Ala Moana, the
North Shore
and various other spots around Oahu. Lessons run between 1-2 hours and are taught by more experienced surfers. Longboards are used to make it even easier for first-timers and a push from your instructor will help you get started. Lessons are highly recommended for your safety and the safety of your fellow beachgoers.

Watching Big Wave Surfing on Oahu
To see the professional surfers in action, take a drive to the
North Shore
during the winter and watch surfers from around the world ride Hawaii's most famous big waves. The North Shore's legendary winter waves attract the best surfers in the world.
The Vans Triple Crown of Surfing
, considered the Super Bowl of surfing, is held on its shores every year in November and December at Waimea Bay, Haleiwa Beach and Ehukai Beach (Banzai Pipeline).
"The Eddie" is considered the ultimate Hawaii big wave surfing event since it honors legendary Hawaiian waterman Eddie Aikau. Unlike other competitions, "The Eddie" does not have a set date, but rather, a holding period from December through February and occurs on one day only if the waves hit a face height of 40 feet or more. Since its inception in 1984, this invitation-only event has only been held a handful of times. The opening ceremony brings together surfers from around the world in celebration of the aloha spirit of Eddie Aikau, the legendary lifeguard of Waimea Bay and one of the best big wave riders in the world. He was a legend on the North Shore, and the phrase "Eddie would go" refers to how he pulled surfers out of the raging waters when no one else would—or could. Visit
Waimea Bay
and you'll find Eddie's memorial watching over the surfers as he did in life.
Note:
Always heed warning signs about dangerous swells and currents, and be mindful of current conditions and your own abilities.
Please note: We apologize for any inconvenience, but our preferred business listings below are in English only.
Sorry, there are no results. Please try another search.