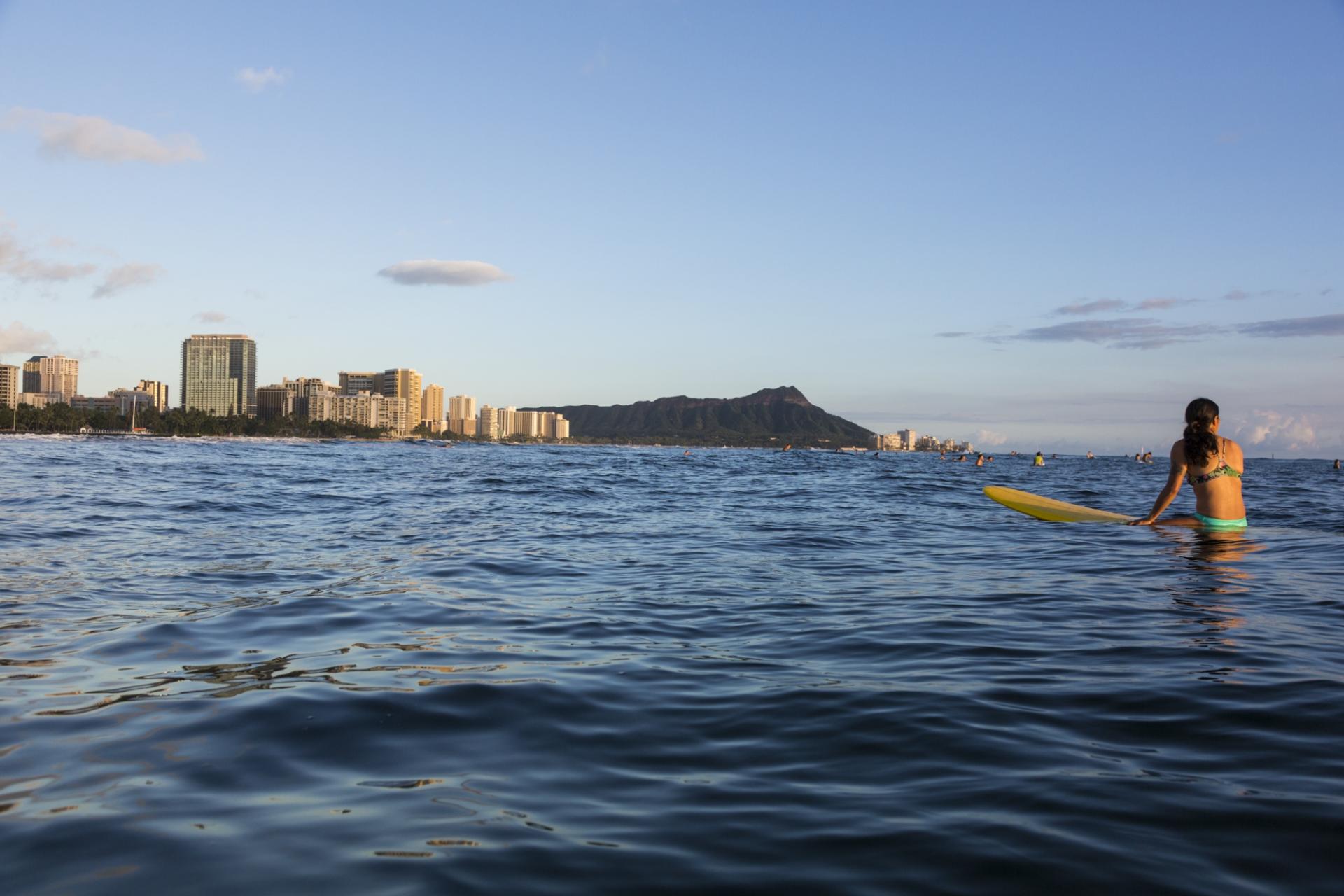 With endless golden
beaches
, inviting blue waves and balmy weather, you can play in the water all year long on
Oahu
. If you've always dreamed of hanging ten on a long board, Waikiki Beach is the spot to learn.
Duke Kahanamoku
and the Waikiki Beach Boys popularized the art of
hee nalu
(wave sliding) in the waters of Waikiki Beach during the early 1900s, and it's still a perfect place to take your first
surfing
lesson today.
Beyond surfing, you can explore the ocean by taking a group outrigger canoe ride off of
Waikiki Beach
. If you're looking for something fun for the whole family to do, try
snorkeling
and swimming at one of Oahu's many beautiful beaches. Take a sunset cruise or sailing excursion and you might spot a humpback breach during
whale watching
season (December through May). Sports fisherman can also charter a boat and fish for Pacific Blue Marlin, Ahi (yellowfin tuna), Ono (wahoo) or Mahimahi.
Satisfy your sporty side with other water activities in Oahu, including jet-skiing, parasailing, wind surfing, kite surfing, wakeboarding and bodyboarding (boogie boarding). Stand up paddle boarding (SUP)—where surfers stand on a larger board using a paddle to maneuver—has also become a popular alternative to surfing in the islands. With so many exciting activities, you'll understand why adventure thrives in the deep blue Pacific surrounding Oahu.
Ocean Conservation & Safety
Oahu Travel Tips: Ocean Conservation
Oahu is known for many things, including beautiful marine life. Local ocean conservationist, Ocean Ramsey, has a few tips on how to keep these creatures safe, while visiting the island's many beaches
Oahu Travel Tips: Ocean Safety 340 views
If anyone knows about ocean safety, it's world champion surfer Duane Desoto. As an Oahu local, he helps visitors enjoy the island's many beautiful beaches while also keeping their safety top of mind.
"This short stretch of coast has more than 20 breaks gentle enough for the novice or just tricky enough for the experienced surfer. The waters are warm. The waves are forgiving and long enough to let you go the distance. Every visitor to Oahu should ride a wave."