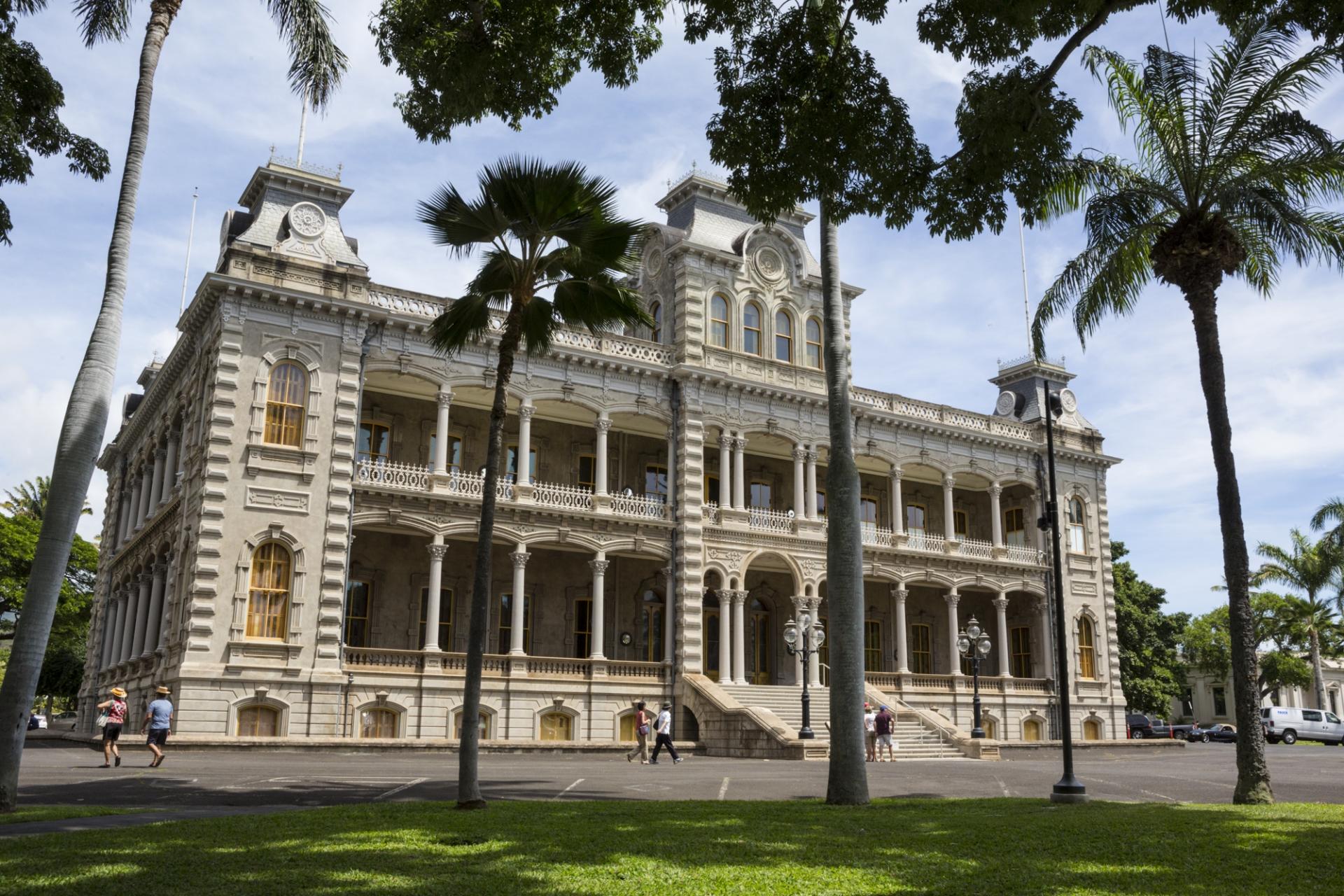 What: Former residence of the Hawaiian monarchs
Where: Downtown Honolulu
A national historic landmark and the only official state residence of royalty in the United States, from 1882 to 1893 Downtown Honolulu's ʻIolani Palace was the official residence of the Hawaiian Kingdom's last two monarchs: King Kalākaua and his sister and successor, Queen Liliʻuokalani.
The palace was a symbol of promise for the Hawaiian Kingdom built by King Kalākaua, "The Merrie Monarch." Influenced by European architectural styles, this royal residence included Hawaiʻi's first electric light system, flush toilets and intra-house telephones. The rich interior features a beautiful koa staircase, dramatic portraits of Hawaiian royalty, ornate furniture and royal gifts and ornaments from around the world.
In 1893, a provisional U.S. government was established after opposition forces overthrew the Hawaiian monarchy. The Hawaiian Islands were eventually annexed as a United States Territory in 1898. Hawaiʻi became the 50th state in 1959 and during this time ʻIolani Palace was used as the capitol building until 1968. After falling into disrepair over the years, the ʻIolani Palace was renovated and opened to the public in 1978.
Tour through this American Florentine-style palace's throne room, reception and dining room and envision the magnificent state dinners and balls held here. View the private living quarters of the royal family and listen to the tragic story of Liliʻuokalani's imprisonment in an upstairs bedroom following the overthrow. On the basement level view the ancient regalia of Hawaiian royalty from swords and precious jewelry to the two golden crowns of the King and Queen. On the spacious grounds of the palace, see the ʻIolani Coronation Pavilion, where in 1883 Kalākaua was crowned king.
Also note that ʻIolani Palace sits in the center of a vital area that is worth a walking tour. Across South King Street you'll find Aliʻiōlani Hale and the
King Kamehameha I statue
. Right behind ʻIolani Palace is the State Capitol building and Washington Place, home to the governor. To the east are the historic Kawaiahaʻo Church, Honolulu Hale (home to the City Council and offices of the Mayor) and the Hawaiian Mission Houses Historic Site and Archives. To the west you'll discover the Hawaiʻi State Art Museum as well as Oʻahu's main financial and arts district in
Downtown Honolulu
and Chinatown.
You can take a guided tour or a self-guided audio tour of the Palace Tuesday through Saturday. If you're facing the Palace, the ticket office is to the left on the State Capitol side of the building. One of Oʻahu's most important
historical places
, ʻIolani Palace plays an integral part in understanding the history and culture of Hawaiʻi. Learn more about the ʻIolani Palace.
Note:
ʻIolani Palace is also a venue for private events, such as weddings.