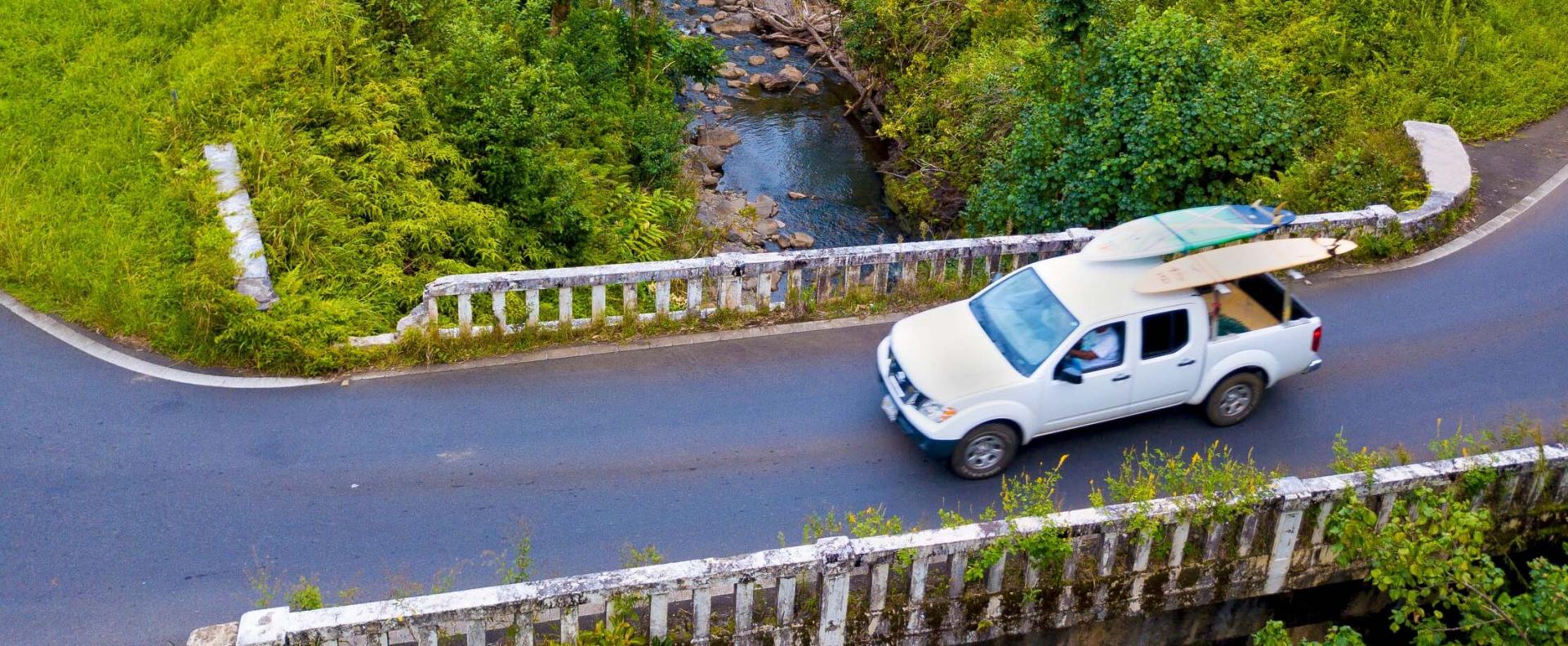 What: A quiet and scenic town in East Maui
Where: The Eastern shore of Maui

Along Maui's rugged eastern coastline is the peaceful town of Hāna, considered one of the last unspoiled Hawaiian frontiers. The legendary road to Hāna is only 52 miles from Kahului; however, the drive can take anywhere from two to four hours to complete since it's fraught with narrow one-lane bridges, hairpin turns and incredible island views. Visitors are encouraged to experience the road to Hāna through a permitted tour led by professional guides.

The Hāna Highway (HI-360) has 620 curves and 59 bridges. The road leads you through flourishing rainforests, flowing waterfalls, plunging pools and dramatic seascapes. Please keep in mind that you'll encounter challenging turns and narrow bridges along the way, so it's important to exercise caution and take your time. Joining a tour will eliminate stress for the driver and passengers, allowing for a more enjoyable experience and guides provide valuable insights about the surrounding area and its cultural history. There are plenty of opportunities to stop and enjoy the lovely views. While it's all about the journey, once you reach the beautiful and quiet town of Hāna, you'll see why it's worth the trip.

Historic St. Sophia's Church marks your arrival into Hāna, where the pastures roll right up to the main street. The historic Hana-Maui Resort is a luxurious retreat in this village rooted in Hawaiian tradition. Browse the Hasegawa General Store and Hāna Ranch Store for unique souvenirs. Swim and sunbathe at Hāna Beach Park or Hāmoa Beach, cited by author James Michener as the most beautiful beach in the Pacific. Sunbathe at Waiʻānapanapa State Park (advanced reservations required), a beautiful black sand beach. Or visit Hale Piʻilani, the state's largest heiau (Hawaiian temple), in Kahanu Garden, one of five National Tropical Botanical Gardens in Hawaiʻi.

Beyond Hāna, venture 10 miles south to the outskirts of Haleakalā National Park in Kīpahulu. There you'll find the Pīpīwai Trail where you can hike to the 400-foot Waimoku Falls.
Road to Hāna Code of Conduct
Visit State parks and County rest facilities.
Enjoy the various farms, botanical gardens and fruit stands along the way.
Avoid sites located on or beyond private properties, and areas that lack visitor welcoming signage.
Park in designated parking stalls. Vehicles protruding onto the highway are subject to being towed.
Do not enter streams on occasions of heavy rains and flash flooding conditions.
Please respect the

ʻāina

(land): place trash in a proper receptacle, stay on the paths, respect the wildlife and plants, and practice safe procedures.