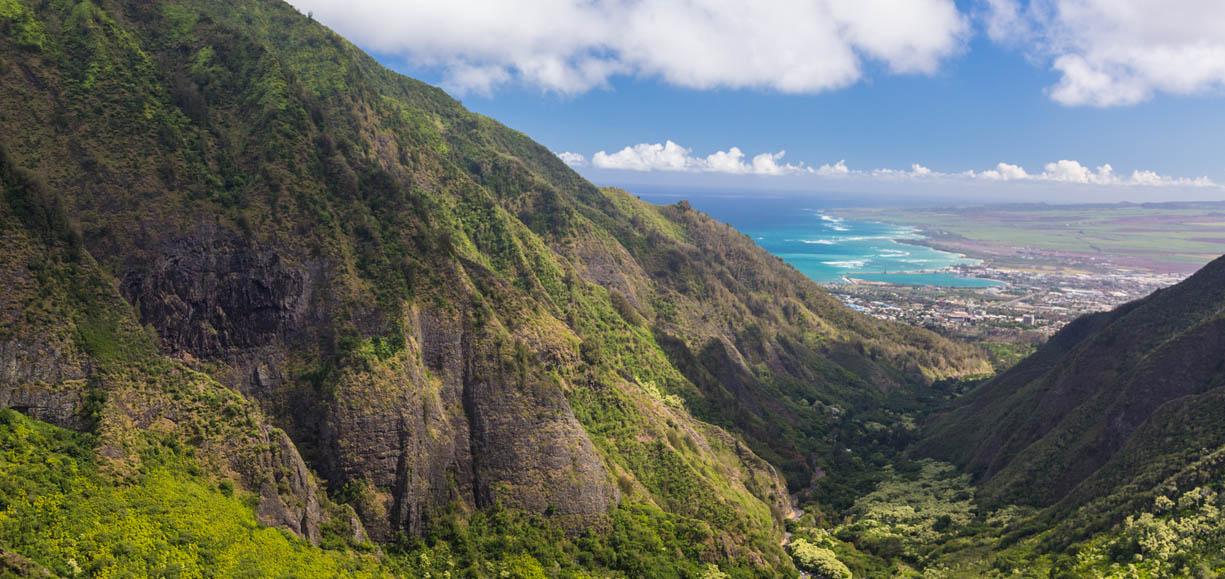 Hanohano o Maui Nui a Kama
Chant for Maui: Hanohano O Maui Nui A Kama
Hanohano O Maui Nui A Kama, composed and chanted by Kamaka
Kūkona
, speaks of the island of Maui, its wahi pana (storied places) and the
kamaʻāina
(locals) themselves. From the top of
Haleakalā
to the ocean spray in
Mokuʻula
, each location shares its story and aloha like the wind that sweeps through
Lāhainā
. Look out for the place names in this chant as you explore Maui.
Hawaiian islands often earn nicknames or are referred to by rulers of the past. Maui Nui A Kama refers to
Kamalālāwalu
, an
aliʻi
nui (ruler) of Maui. Nicknames are also given to places, like Kamaluuluolele – the breadfruit tree shelter of Lele, an old name for
Lāhainā
. Islands are also known by their emblematic flower, which for Maui is the lokelani rose.
Kamaka Kūkona, Kumu Hula
Hanohano o Maui Nui a Kama
Kamalei hiwahiwa pua lokelani
Aia ka wai ola kahe
mālie
I ka nio poli anu
aʻo
ʻĪao
O ka la welo
ʻana
i ke awawa
Awaiaulu ke aloha i ka puuwai
Waiwai o Wailuku i na makamaka
Makahehi
ē
na kupa
aʻo
Waiheʻe
He nani kamahao ke
ʻike
aku
I ke ku kilakila
Haleakalā
Auhea
ʻoe
ē
ka ua Ulalena
Nana i ka uka
aʻo
Pi'iholo
Kolo ke ahe i Maluuluolele
Lei
ʻana
o Kihawahine i ke kapu
O
Mokuʻula
noho i ka ehukai
ʻāina
uluwehiwehi o na
aliʻi
Puana
ē
ka wehi no
kuʻu
ʻāina
Hanohano o Maui Nui a Kama
E ola
ē
Dignified is Maui of Kama
So precious is the heavenly rose
The living waters flow gently
At the bosom of
ʻĪao
's lofty chill
The sun glows throughout the valley
As does love within the heart
Hearty are the people of Wailuku
Attractive are those of
Waiheʻe
A wondrous beauty to see
Is the majesty of
Haleakalā
Where are thou oh cleansing Ulalena rain
Look upland towards
Pi'iholo
The gusts travel to
Lāhainā
Where Kiha is bound in sacredness
Mokuʻula
residents by the sea spray
Verdant land of the chiefs
Told is the refrain for my land
Dignified is Maui of Kama
May it thrive