Sheldon Simeon & Brandon Lee
Tin Roof Maui Chef & Kaunāmano Farm Owner
Chef Sheldon Simeon and Brandon Lee stand in a pasture of happy pigs in lush

Honokaʻa

, north of Hilo on the island of

Hawaiʻi

. Tonight, they'll be cooking for a big, local-style potluck at Sheldon's father's house. But before the dishes hit the table, the guys wanted to take a visit to the source – the farm.

Simeon is best known for competing on the TV show "Top Chef," winning the "fan favorite" title twice. But Simeon came from humble roots. He was born and raised in small town Hilo on a guava farm. His grandparents were immigrants from the Philippines who worked on the plantations. So he understands the unique, local food perspectives he learned here is what makes his cuisine so special around the world.

Lee owns

Kaunāmano

Farms. He's made a mission out of raising a royal herd of pigs – happy, healthy, macadamia nut-fed pigs, suitable in theory for King Kamehameha the Great. Similar to Berkshire pigs, he's creating a local pork in Hilo with a distinctive, premium flavor. He works hand-in-hand with local chefs like Simeon, and supplies pork to select restaurants throughout the islands. The two are as local and 808 as it gets. Their passion for homegrown, sustainable food is evident when they talk, but even clearer when they cook.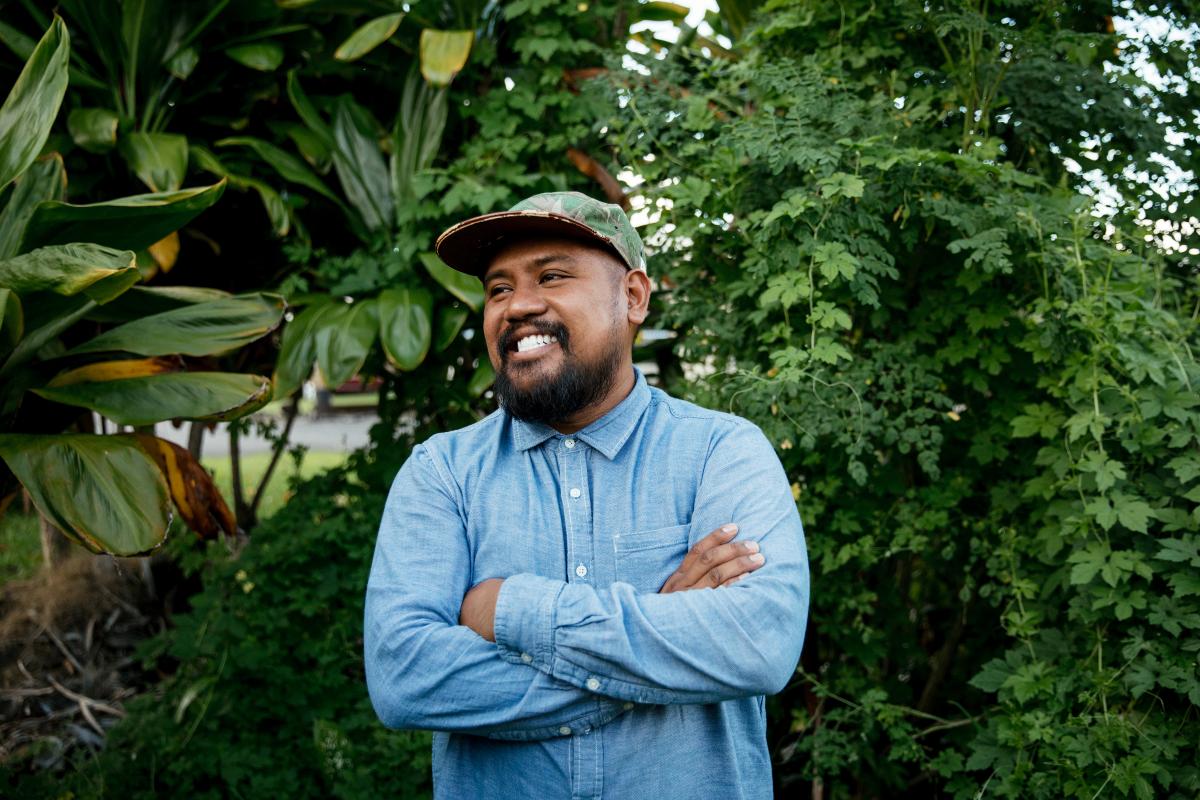 "So, if you look at the recipes here in

Hawaiʻi

, they're based off traditions 100 plus years ago, but in its own style." ~ Sheldon Simeon
Tell us about what makes locally grown food so special.
Sheldon: Being in
Hawaiʻi
with the best climate in the world gives us the opportunity to grow the best ingredients in the world, and right at our fingertips. I love having the volcanic soil, people geeking out about growing the best
ʻulu
(breadfruit) or the best taro, and applying these modern techniques to traditional ingredients. That's the way that we elevate things. We'll stay rooted in the recipes, but the better the ingredients that we get, the more we'll elevate the food of
Hawaiʻi
.

Why are pigs the perfect sustainable food for
Hawaiʻi

?

Brandon: Cattle, those are big animals. They're not sustainable for

Hawaiʻi

. Pork is perfectly designed to be the livestock of

Hawaiʻi

. You feed pigs macadamia nuts, all that flavor, that oiliness that macadamia nuts have, it goes right into your pigs. And then we also grow bananas, and sweet potatoes, and breadfruit, and taro, all fantastic foods for pork. I mean if love comes out when you cook, love definitely comes out when you produce, and when you cultivate.

Sheldon, tell us about your cooking roots.
Sheldon: I was super blessed to be surrounded by food my whole life. My parents were amazing cooks. The Filipino cuisine that I cook is through the lens of
Hawaiʻi
. The recipes that were from my grandparents were based off of their memory of their short time that they lived in the Philippines. And that's true of a lot of all these other families who came to work on the plantation fields when they were all still teenagers. It kinda all blended together to create this sub-recipe of what the traditional recipes were. But the recipes that they're trying to recreate? They're as traditional as it gets.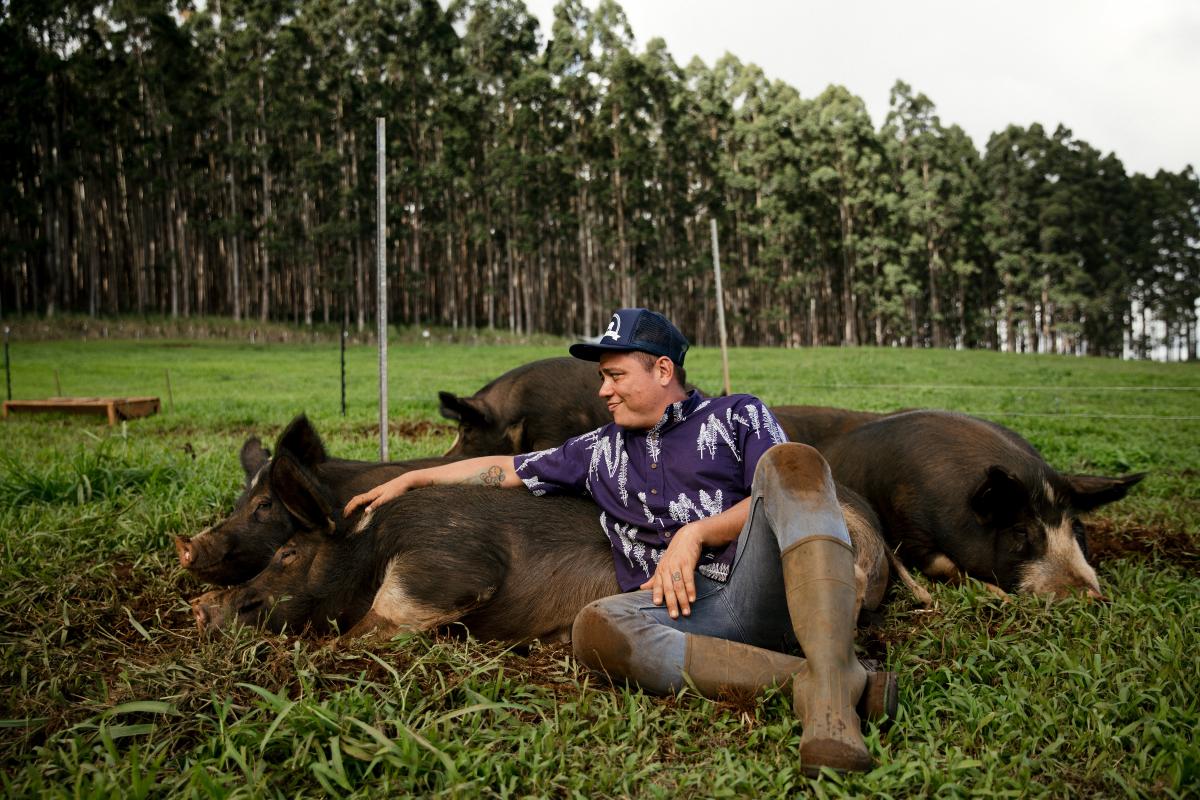 How are you modeling your farm after the
ahupuaʻa

system?

Brandon: People are always about 100% sustainability. How are we ever gonna get there? Well, we already were at one point because we had no other option. The

ahupuaʻa

system was a giant rotational system that worked from mountain to the ocean. It was a sustainability system that made life possible in

Hawaiʻi

. And not just possible, they thrived. It made it possible for Hawaiians to live symbiotically with the land for a thousand years on the most isolated land mass in the world. If we didn't run away from the

ahupuaʻa

system 200 years ago, it would be an amazing, developed hybrid by now.

What do you love about local-style potlucks?
Sheldon: When somebody invites me to a potluck, I feel it's an honor, and I wanna bring the best dish that I can prepare for that moment. Each crowd is different. I try to create dishes for whoever the audience that I'm going for. When you're surrounded by your friends and chef colleagues, it's always a moment to experiment with something. And I love to see what other chefs are bringing to the table.
"In order to be sustainable, you have to work together." ~ Brandon Lee

What makes local cuisine so unique?
Brandon: We're using all those fantastic techniques of Europe, but all the flavors of the Pacific Rim. So, you get this delicious mishmash of all kinds of stuff.
Sheldon: How lucky are we that we can have Chinese, Korean, Filipino, Hawaiian, Portuguese, and still call it one cuisine, and that still be a part of what we are? It's a place where it should be an example to the rest of the country of how all these cultures seamlessly blended together, and live amongst each other, and create a happy unity. And I think a lot of chefs are going back to those roots, and being proud about what we have here in
Hawaiʻi
.