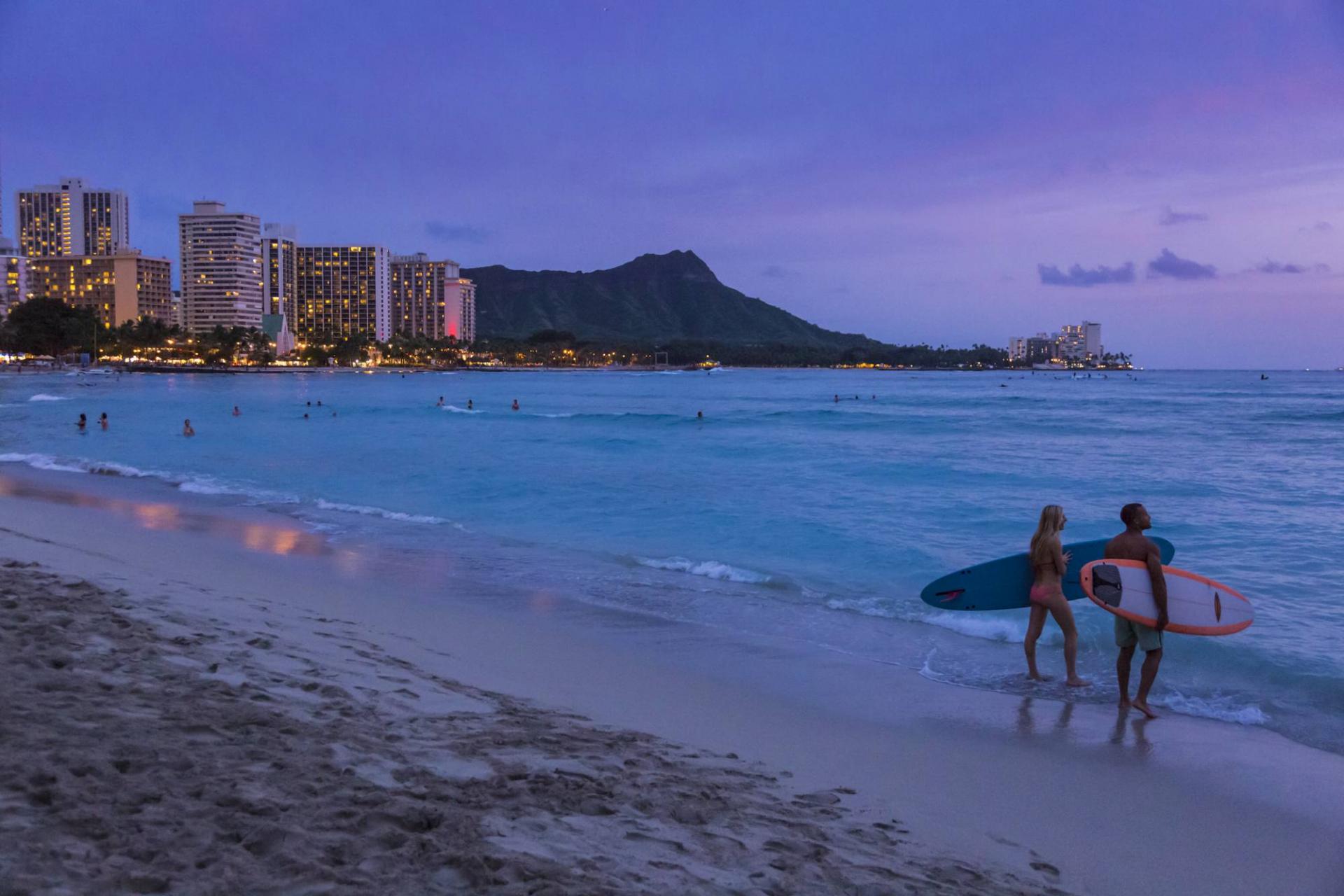 What: Historic gathering home to the majority of
Oʻahu

's hotels and resorts
Where: South shore of Honolulu
Located on the south shore of Honolulu, the world-famous neighborhood of
Waikīkī
was once a playground for Hawaiian royalty. Known in Hawaiian as "spouting waters,"
Waikīkī
was introduced to the world when its first hotel, the Moana Surfrider, was built on its shores in 1901. Today,
Waikīkī
is
Oʻahu
's main hotel and resort area and a vibrant gathering place for visitors from around the world. Along the main strip of
Kalākaua
Avenue you'll find world-class shopping, dining, entertainment, activities and resorts.
Waikīkī
is famous for its beaches and every hotel room is just two or three blocks away from the ocean (if it's not directly on the beach). With Mount
Lēʻahi
(
Lēʻahi

Head
) as your backdrop, the calm waters of
Waikīkī
are perfect for a surfing lesson. In fact, legendary Hawaiian waterman Duke Kahanamoku grew up surfing the waves of
Waikīkī
. With other renowned
Waikīkī
Beach Boys, this Olympic gold medalist in swimming taught visitors how to surf at the turn of the century. "Duke" was instrumental in sharing the values and sport of surfing to the world and came to be known and respected globally as "the father of modern surfing." Today, surf instructors in
Waikīkī
perpetuate Duke's legacy by teaching visitors how to surf and canoe. The
Duke Kahanamoku Statue
, located on
Waikīkī
Beach, has become an iconic symbol of
Waikīkī
and the surf culture of
Oʻahu
.
But there's more to
Waikīkī
than just the beach. Attractions of
Waikīkī
like the Honolulu Zoo and the
Waikīkī
Aquarium offer fun for the whole family. You can learn about the history of
Waikīkī
by reading the surfboard markers along the
Waikīkī
Historical Trail. Among the various things to do, high-end boutiques, shops, and restaurants can be found all along
Kalākaua
and
Kūhiō
Avenues and at gathering places like the Royal Hawaiian Center, the
Waikīkī
Beach Walk and the newly transformed International Market Place. After the
Waikīkī
sunset, the fun continues with amazing nightlife and live music.
Best of all,
Waikīkī
is within a half hour of a variety of
Oʻahu
attractions, including
Pearl Harbor
,
ʻIolani

Palace
, the
Nuʻuanu

Pali Lookout
and
Hanauma Bay Nature Preserve
Nature Preserve, a marine life conservation district. Other notable points of interest nearby include Ala Moana Center (a massive outdoor shopping center), the local neighborhood of
Kapahulu
and the arts district of Chinatown.
From Hawaiian royalty to
Hawaiʻi

Regional Cuisine
,
Waikīkī
continues to be an evolving expression of the ancient spirit of aloha. On these famous shores, the past and the future are uniting in fresh and surprising ways.